Are you looking for an environmentally sound, sustainable and attractive way to give your home a facelift while protecting it against damage and weathering? External cladding materials are a cost-effective and appealing way to provide another literal layer of protection to the most valuable asset you own: your home.
The exterior cladding you choose will have a significant effect on the insulative properties of your home and so it's wise to choose a sound option. There is a range of styles out there to choose from, and it's important that you make sure the cladding materials you go for are efficient.
Here we'll go through some of the top performers to help make your cladding choice simple.
The Role of Cladding
The primary purpose of installing cladding on your home is to protect it from the weather, add greater insulative properties to your home and to add to the aesthetic appeal. Other benefits to be had from cladding include sound and thermal insulation, and with our quality cladding,they are fire retardant and self extinguishing.
When you are looking to get cladding for your home, you want to make an assessment of a few key things and choose the type of cladding that suits your requirements. Cladding can come in horizontal or vertical boards, and can be sheets or strips depending on the design. You can also choose from a range of finishes and colours.
Choose Your Colours
When you're looking at getting cladding, you aren't limited in the range of colour and style options – and in fact, many of our customers are delighted with the range we have available.
Colours
Whether you want shades of blue, green or neutrals for your home, you are spoiled for choice with the range at Abbey Thermalboards. We stock a range of colours and finishes for every style of home and would be happy to discuss the options with you.
Bear in mind these few key tips when you are selecting the colours for the outside of your home:
If you live in a hot area that gets a lot of sun, make sure you choose lighter colours as they will reflect the sun's rays and keep you cooler.
If you're in a colder area, you can steer towards the darker colours as they absorb the light from the sun and will keep you warmer in the cold climate.
If you're looking for a mixture of colours, try to limit yourself to three colours to keep things looking smooth and sleek.
Textures
Want a textured finish for your cladding? That's no problem – we stock timber finishes to suit a wide range of applications. Aluminium cladding is not textured and comes in a smooth finish, while our vinyl cladding range is textured to a wood grain finish that looks realistic and classic.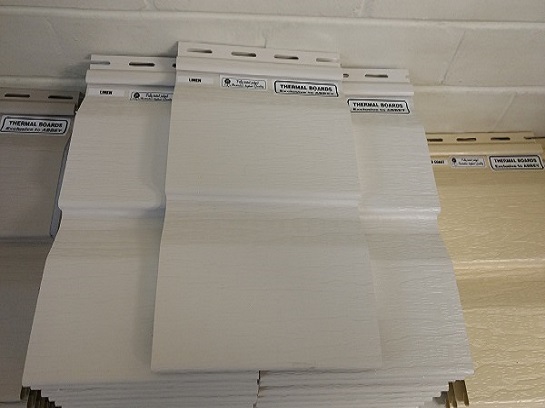 The Environmental Choice
We all need to have the environment front and centre when considering the choices we are making with our home designs, and the type of cladding you choose is vital.
You need to think about:
The lifespan of your cladding compared to traditional home materials like wood. Vinyl and aluminium cladding have a very long lifespan and can be a really efficient choice for your home.
The durability and appropriateness of the fixings and seals: you need to make sure these are going to match the lifespan of your cladding. With Abbey Thermalboards, we match the fixings and seals to your cladding.
The finish and the styling of your cladding. We have spoken about the styles we have above, but remember that you are going to have this on your home for the next few decades so it's important to invest in a style you love.
The maintenance of your cladding materials. With Abbey Thermalboards, you never have to paint your home again and will benefit from a very easy-to-clean home. All you need to do is get out there with some mild detergent and the hose twice a year and your home will be looking great. If you live in a coastal area, do be sure to clean more frequently, as salt build-up can cause your home to look run down.
The contribution to thermal performance. Your cladding is going to be a huge asset in contributing to the insulation of your home and is a big tipping point for a lot of our customers.
Aluminium Cladding
Looking for cladding materials that are designed to last?
Aluminium cladding is corrosion-resistant and comes in a variety of colours and styles. A very low maintenance building material, aluminium has a long lifespan of over fifty years. It does require careful installation by professionals to ensure that the fixtures and flashing are installed to prolong the life of your cladding.
Aluminium is among the most waterproof of all the cladding materials available on the market and is well suited to fire-prone areas as it has good fire resistance. In addition to these benefits, aluminium is a recyclable product which is highly reusable if it's screw-fixed.
Speak to us today about our options.
Vinyl Cladding
This popular cladding choice is available in a range of profiles, textures and colours and is a very low-maintenance material for your home. Contemporary vinyl cladding options available from Abbey Thermalboards can be both environmentally sound and aesthetically pleasing.
Speak to our team of experts today to find out more about how vinyl cladding can be used to great effect in your home.
Still looking for more information? No problem – we'd love to hear from you! Give us a call on 1800 621 113 today to speak to an expert about your home cladding needs.