Going Against The Grain – Cladding For Houses Breaking Design Trends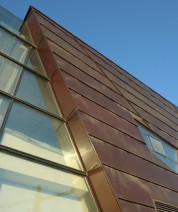 Exterior cladding doesn't just protect your home from weather, it's also a key factor in its aesthetic appeal and it can directly affect the building costs.
But on the plus side, it can positively affect the sale price of your house. That's why it's important to think outside the box when designing your house cladding and stand out from the crowd!
Cladding for houses doesn't always have to be a simple and straightforward vertical or horizontal plank design.
We look at some unique and unusual cladding designs from around the world that don't stick to this basic trend and what materials they're made from.
Why Exterior Cladding?
So why have exterior cladding on your home in the first place? Well for starters, you'll never have to paint the outside of your home again. The high quality materials are installed over the top of existing walls and won't chip, flake or peel.
This includes standing up to the harsh Aussie weather such as hail and sun. So once your external cladding is installed you can relax knowing it will stand the test of time.
One of the best features of exterior cladding is that the cleaning is an absolute breeze! To keep it looking new all you have to do is wash it with a mild detergent once or twice a year, depending where in Australia you live.
If you are closer to the sea, it is recommended to wash it down more often as the sea salt can build up and make your cladding appear worn.
House cladding will also save you a pretty penny when it comes to your electricity bill. If you get quality home cladding installed it will act as insulation against heat and cold, saving you on the cost of air conditioning and heating.
Cladding Designs
 A World of Colour
When it comes to adding colour to your home, you can let your imagination run wild with vinyl cladding. It has the largest range of vibrant colours available for your external cladding and a finish of an authentic wood grain texture. So you can have the look of painted timber without the maintenance hassles.
But before you start painting rainbows on your home, you need to consider that external cladding influences its capacity to absorb and reflect heat.
With the Australian heat it is better to stick with lighter colours so that some of the warmth can be reflected off the house. But you don't have to steer clear of darker colours all together; why not add it in strategic places to add more interest into your vinyl cladding design.
If you are looking for a colourful, fun design you can't go past the below vinyl cladding. Yes, this isn't for everyone but it definitely serves well as an inspiration to push your creativity.
Picking a maximum of 3 colours for house cladding is probably the smart choice; you can make your home look interesting while not looking over the top.
Think Warm Aussie Climate 
Aluminium cladding is the perfect solution for the warm, stormy Australian weather. Out of all the external cladding it is the most waterproof material, so it's great for our unpredictable storms.
It's also the sensible choice for the harsh Aussie sun as the durable finish on aluminium cladding will not crack or peel. And, if you like to look after the environment, aluminium cladding is 100% recyclable.
Just like vinyl, aluminium cladding comes in a variety of colours. Your facade will look its best when the house cladding colours are used with the Australian landscape in mind to complement each other.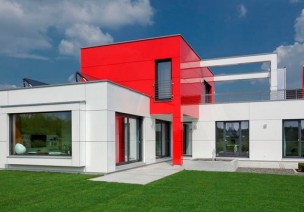 The panels of aluminium cladding are quite versatile allowing it to be bent, folded or rolled into shapes, allowing you to make your exterior cladding as interesting or as classic as you prefer.
Take for example the home below that is located in Millerton, New York and designed by Grzywinski+Pons. This modern take on a country home features a unique aluminium cladding design that has the appearance of brick?
The owners specifically requested for the home to be protected as much as possible from the elements as it's unoccupied for long periods of time. This is the reason why the architects chose aluminium cladding.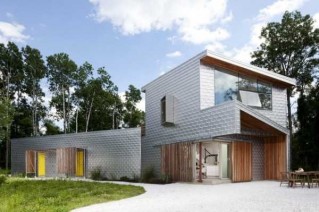 Laser cut
The newest cladding design to the block is laser cut steel that uses any type of metal sheeting. Decorative laser cut is more commonly used in high end architectural homes and it most certainly packs a punch!
It is definitely worth investing in laser cut external cladding if you want your home to stand out from the rest on your street. It's generally used to liven up plain cladding to offer something unique, something that you can design yourself.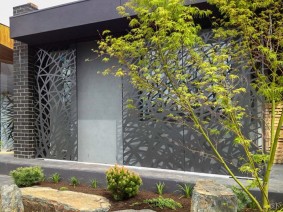 Stone
Stone cladding has been popular in the Australian housing market for some time due to its attractive appearance. While it maybe tempting to save a penny on your home cladding, don't purchase it over the Internet as it's difficult to see the detail and quality of the stone.
There are two types of stone cladding available on the market.
Natural Stone: Keeps its colour and doesn't fade over time. The stones comes in a pre-glued system and is usually more expensive but will keep well for decades.
Manufactured Stone: Can fade, making your home cladding look worn, as it's made of concrete or a combination of stone and concrete.
Check out this gorgeous exterior on a home in Chile that boasts a geometric pattern of cool gray stone cladding.
So if you're focusing on a new build or an extension, step out of the box and get creative! Not only will your façade thank you for it but once you sell your home, your wallet will also.
To get the highest quality home cladding at an affordable price, make sure to give the team at Abbey Thermalboards a call.