Our Cladding Insulation Foam
Abbey's insulation is extremely effective essentially because stabilised air is such a good insulator and our insulation contains finely shaped spherical particles which are 98% air a process similar to that of the highest quality vacuum flasks.
All 3 types of our insulation material are able to resist the adverse effects of moisture and are exceptionally strong are manufactured in different densities and exhibit excellent compressive and flexural strength and dimensional at very high strength to weight ratios.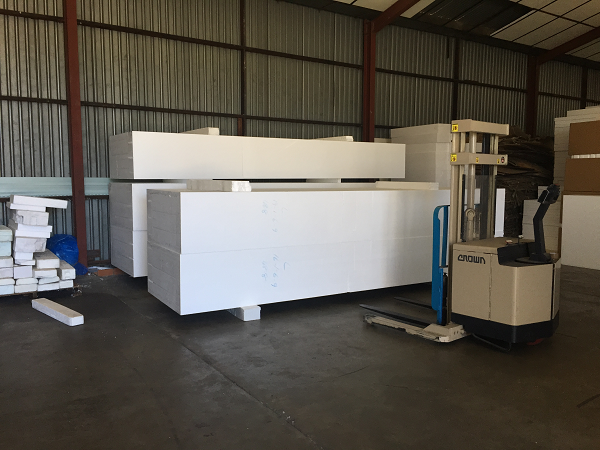 It is durable because it is an inert, organic material will not rot, and is highly resistant to mildew. It also provides no nutritive value to ants, termites and rodents.
Furthermore, our insulation does not contain CFCs. They are HCFC free and therefore do not contribute to the depletion of the Earth's ozone layer. The material contains a fire retardant additive and do not present an undue fire hazard. Abbey's insulation can be recycled during the manufacturing process with any excess ground back up and re added into the blocks.
Abbey insulation can be used in any application that insulation and strength are required and is often combined with Abbey's aluminium and vinyl wall cladding.
Abbey Thermalboards can provide 3 types of insulated wall boards:
We offer Isolite which is your plain insulation or more commonly used product, the Thermasilver, which is graphite infused and 20% higher in insulation than the Isolite and a third option which is Super High Density insulation, offering superior noise eradication and high levels of insulation.
Abbey Thermalboard's Thermasilver insulation adds 47% more insulation to the R value of the uninsulated board. This is an extra addition of 20% in insulation to the R value to the plain insulation.
ThermaSilver
RMAX ThermaSilver is an insulation option offered by Abbey Thermalboards. They are most effective in foil- covered products and even more so in the foil used by Abbey Thermalboards in both aluminium and vinyl cladding.
RMAX ThermaSilver contains a fire retardant modifier. The material is nonhazardous according to the health criteria of the (ASCC). The blend of Polystyrene and graphite is slightly denser than plain insulation.
ThermaSilver is a premium grade of expanded polystyrene from RMAX manufactured to exceed the requirements of AU standard 1366.
ThermaSilver has a greater insulation performance than that of conventional EPS of the same density and thickness due to tiny particles of graphite that are embedded in the EPS beads to reflect and absorb radiation.
The strength and insulation of performance characteristics of ThermaSilver make it ideally suited as thermal insulation on walls of residential and commercial buildings.
Even better, ThermaSilver assists the environment and is free of ozone depleting substances!