House Cladding Vs Painting
Choose House Cladding, Save Thousands!
If your house isn't cladded with high quality, lasting cladding materials, you will have to spend tens of thousands of dollars in painting and repainting costs over the years, not to mention having to organise painting services!

An average 3 bedroom, single storey home will typically cost between $8,000 and $10,000 for a full exterior paint job. The cost will vary depending on the condition of your exterior walls, the brand and quality of the paint you use, and whether you choose to hire a professional painter or prefer to take care of the job yourself.
And depending on the material your house is built from, you'll then have to repaint your house again every 2-10 years.
Painted timber can last up to 10 years, but if it's exposed to full sunlight or you live near the coast, it will need to be repainted every 2 or 3 years.
And if you have stained or clear finished timber, it needs to be refinished every 2-5 years – just more work and maintenance to do!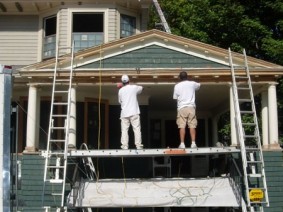 But What About Inflation and Over All Cost?
It will probably cost you more than $90,000 to paint your home over 20 years!
If today's house painting costs $10,000 you could waste $92,000 in painting over the house of the next 5 paint jobs. And all you are doing is trying to maintain your home. You are not improving its value – only trying to put it back where it was.
The figures below are based on a 5% p.a. inflation and painting every 5 years.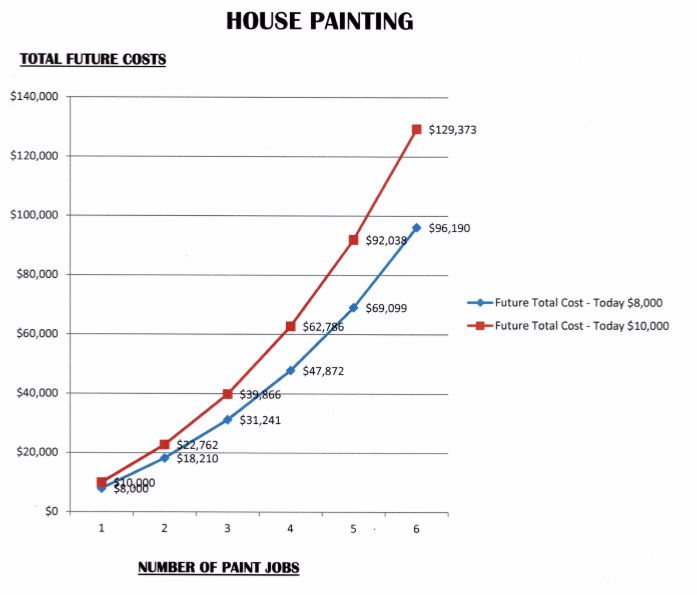 At Abbey Thermalboards our state-of-the-art aluminium and vinyl cladding thermalboards are coated with a superior baked-on paint process that infuses the materials all the way through, so it will never peel or crack no matter how much sun or rain it's exposed to.
Once you've cladded your home you'll never have to touch it up!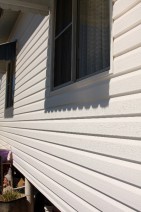 State by State Comparison
If you live in Queensland, you've gotten the short end of the stick when it comes to house painting rates. While the average rate for a professional house painter across Australia is $40.81 per hour, painters in Brisbane and Queensland charge the most for their services with an average rate of $41.69 per hour.
So save money on your Queensland home and stop having to budget for exorbitant painting costs as your walls flake and wear. Our exterior wall cladding installation will keep it looking brand new and beautiful all year round, and well into the future.