Vertical Board Cladding
For a unique and modern alternative to traditional horizontal vinyl cladding thermalboards, vertical board cladding provides your home with all the fantastic benefits of our quality house cladding, while also adding an eye-catching feature to your exterior walls.
Give your home a stunning upgrade while keeping it well insulated and protecting it from the elements.
Vertical Board – Ideal for Feature Gables and Eave Linings
Our premium vertical board cladding is durable and long lasting, and never requires repainting. It is also completely resistant to mould and corrosion, so your walls will always look like new! Once installed, vertical boards require very little care and maintenance, making them ideal for 'hard to reach' or 'hard to maintain' areas like high roof gables, under eaves, ceiling linings and second storey additions.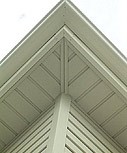 Make your roof gable a star feature of your home with our striking vertical boards. These highly exposed areas need superior protection from the elements, and with the unsurpassed weathering performance of our vertical board cladding your roof gables will endure even the toughest conditions without a scratch.
The eave linings under your roof and the ceiling linings under your porches and verandas are also a perfect place to install vertical boards. These areas are hard to reach to clean them properly, so using low maintenance, long lasting cladding materials will ensure they stay in great condition even through the toughest conditions.
If you have a home with two or more storeys, vertical board cladding is a fantastic solution for you. It will be very difficult for you to reach the higher levels to clean the walls, so installing a superior cladding system will mean you won't have to climb a ladder and waste time scrubbing at stains or trying to remove mildew. Our vertical boards will never mould or rot, so keeping them clean is a breeze! Now you can enjoy beautiful walls that will last forever.
16 Great Colours to Choose From
Vertical boards can be painted in your choice of 16 fantastic colours, from classic favourites like slate grey, ivory and mocha, to a range of modern and unique options such as ivy green, azure blue and colonial red. Check out our entire colour range to view all the possibilities.
Choose a colour that matches your roof or the existing paint job on your walls, or do something a little different and make your home or building really stand out. The choice is up to you!
The Benefits of Vertical Board Cladding from Abbey Thermalboards
Our superior vertical boards are designed and manufactured to give you a full range of benefits so you can be absolutely certain that you've made the right decision. Here's why quality vertical board cladding from Abbey is perfect for you and your home:
It will survive all weather conditions. Vertical boards are an extremely strong and durable cladding system, designed to withstand harsh weather. It won't be affected by extreme temperatures, or heavy sun or rain.Perfect for areas that are prone to bushfires or cyclones, it will stand up against fire damage and has superior wind resistance, making it ideal for installation in high areas like second storeys or eave linings that will be the first to get hit by strong winds.
It's naturally resistant to termites, mould and corrosion. Our vertical boards will never rust, corrode, warp or crack and their moisture resistance means you'll never have to remove mould or mildew.They are termite and insect proof, giving you excellent protection for your home and investment. Quality vertical board cladding will keep your home or building looking new and beautiful year in, year out, for something you can be truly proud of.
You'll never need to paint your house again. Save on ongoing painting costs by cladding your home in beautiful vertical boards.
Their colour is highly fade resistant because our state-of-the-art painting processes ensure the colour goes all the way through the boards, so it won't ever flake, peel or chip. Regular walls will require repainting every 3-5 years, but with our high quality cladding you'll never have to paint your walls ever again.
It will provide another layer of insulation. Vertical board cladding adds another layer of thermal insulation to your home, allowing you to control your inside temperature more effectively and reduce your air conditioning costs. It also insulates your home against sound, providing a valuable sound barrier against unwanted outside noise. This can be especially beneficial if you live in noisy areas such as near main roads, train stations or airports.
It comes with a 50 year warranty. All our vertical board installations come with a 50 year warranty, to give you peace of mind and reassurance that our cladding is built to last. We are confident in our products and our work, and we want to pass that confidence on to you as well.
Design options are endless. Vertical boards on their own are a striking feature for any home, but with such design flexibility you can choose colours, textures and finishes that express your individual style and the style you want for your home or building. Create an entire feature wall in a different colour, add texture with contrasting colours, or emphasise specific design features such as gable ends.
Maintenance is easy. Caring for and maintaining your vertical board cladding is simple! Compared to other wall materials that will need regular repainting every few years, or complicated cleaning processes to remove dirt and mould, keeping your vertical boards clean and maintained couldn't be easier. See below for some basic cleaning and maintenance tips.
Maintain Your Vertical Board Cladding
Cleaning and maintaining your vertical board cladding is a quick and easy process that only needs to be undertaken once or twice a year, depending on where you live and how much dust build up there is. Follow these simple steps and your vertical board cladding will always look brand new:
If any branches or shrubs are leaning against your cladding, trim them back so you can clean the entire area easily.
Make a note of any necessary repairs to your cladding, and have them seen to as quickly as possible. Any damaged boards can be easily replaced, making the repair process fast and simple. We can provide a reliable and efficient repair service for any of your vertical board cladding that does need to be replaced, so don't hesitate to get in touch if your cladding is in need of restoration.
Wash your walls using a high pressure water cleaner. This will effectively remove any dirt and grime, while also eliminating the need for harsh cleaning chemicals. Stand at least a metre away from your walls and move the hose back and forth over the wall. Avoid spraying water directly on any one spot, or spraying directly in between the cladding where water can get trapped. Wash from the top down so that dirt doesn't run over the parts of the wall you have already cleaned.
NOTE: If you don't have a high pressure water cleaner, you can achieve the same effect with a hose and a long handled broom. Aim the hose at the top of the wall and sweep the water downwards. Remember to take extra care if you need to use a ladder to reach the higher parts of your wall, and make sure the ladder is stable and well supported.
NOTE: If you want to use detergent for an extra close clean, choose one that's mild and chemical-free. Once you've washed your walls using detergent, wash over them again with plain water to rinse off any residue.