House Cladding Brisbane
House Cladding Brisbane Based Specialist !
Here at Abbey, we believe in providing new home owners and renovators with the best possible experience.
Our house cladding Brisbane team is dedicated to being open, honest and reliable when it comes to handling your exterior cladding needs and requirements.
With more than 10,000 happy customers in the Brisbane area alone, cladding for houses is our speciality. We're here to work with you – in a reliable and honest manner to make your house a home.
We offer a full range of options including our popular vinyl cladding and aluminium cladding solutions.
We Can Help With Exterior Cladding For Your
| | | |
| --- | --- | --- |
| Houses |  Hotels & Motels |  Small Businesses |
| Housing Complexes |  Commercial Centres | Community Centres |


Exterior Cladding For Houses – Save Money Long-Term!
If you're a Queensland or New South Wales home owner or renovator looking to clad your house, apartment, office or business, our experienced house cladding Brisbane specialists guarantee professional, quality service of the highest standard.
We use the best quality materials and systems to fulfil your vinyl and aluminium cladding needs, making sure your home or business is insulated, protected and long-lasting.
Wall cladding is more and more becoming a design tool as well as a functional one. With a wide range of materials, colours, textures, trims and accessories to choose from, we will work with you to design and choose a cladding system that best suits you and your home.
By putting in the time and money, exterior cladding your home today you can save thousands in future painting and insulation costs.
We can clad any type of property and we are so sure of our expertise and the quality of durable and robust products and materials we use that we will give you a 50 year warranty on any thermalboard cladding we carry out on your behalf.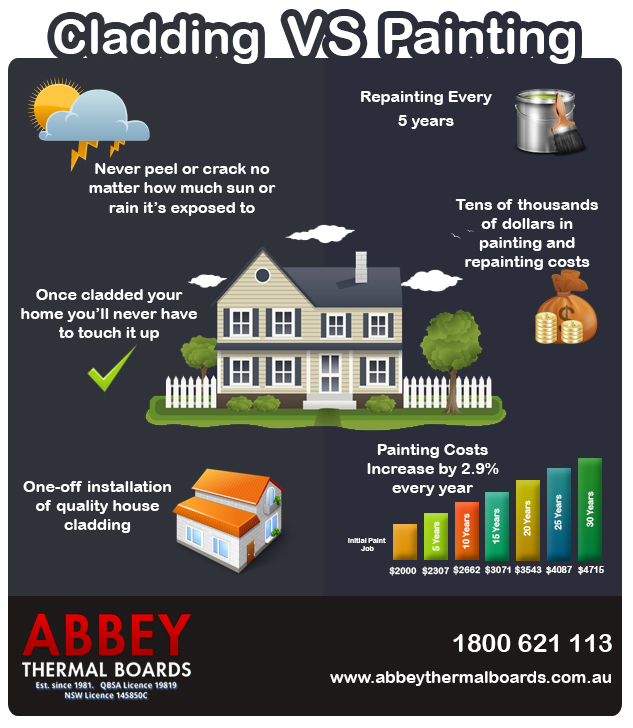 (+) What Exactly Is House Cladding?
(+) Abbey Thermalboards - Storm & Cyclone Resistant
(+) Why Should I Choose Abbey For Exterior Cladding?
Make your house a home – call Abbey Thermalboards today on 1800 621 113 to speak to one of our friendly team for a free, no obligation measure and quote.
Let our dedicated experts handle all your house cladding needs and answer any questions you may have.
We have been cladding for houses and other buildings for over 35 years and we know we can help you revitalise your property!