Mackay's tropical climate sees many humid days with average daytime temperatures of 29-30 degrees during the wet summer months and 21-25 degrees during the dry winter months. Mackay also experiences cyclone seasons between December and April with an average annual rainfall of 1585mm.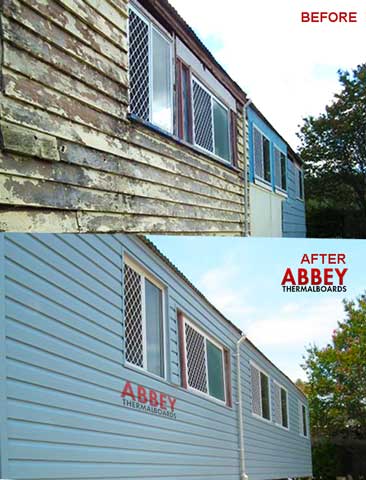 ABBEY's fully insulated thermalboard cladding is ideal for Mackay's weather climate.
ABBEY Cladding is fully water resistant, fire-retardant, self-extinguishing and rigorously quality tested and assured to withstand the region's varying weather conditions.
Choose ABBEY Cladding for


PROTECTIVE LAYER from extreme weather conditions

SUPERIOR INSULATION from fluctuating climate

COST EFFECTIVE and EFFICIENT cladding solution
Protection Against Extreme Mackay Weather
ABBEY Vinyl Cladding products are designed to suit Mackay's unique climate and varying weather conditions, from rain and storms to extreme heat and even bushfires.
Wind and impact resistant, ABBEY house cladding is tested and approved for use in Australian tropical cyclone areas (Wind Classification C3). Our vinyl cladding installations have been known to withstand strong winds. During Cyclone Larry in North Queensland in 2006, ABBEY cladded houses were unaffected by the 230km/h winds and severe impact.
ABBEY Vinyl Cladding is also fire-resistant, self-extinguishing. Timber frame homes in comparison, are very easy to ignite and once burning, are very hard to put out. This makes ABBEY Vinyl Cladding an ideal solution if you live in more bushfire-prone areas of greater Queensland.
ABBEY Vinyl Cladding – Superb Quality and NCC 2019 Compliance Tested
ABBEY Vinyl Cladding is superbly manufactured with long-lasting un-plasticised polyvinyl chloride (uPVC) resin, backed with insulation that is fire retardant and self- extinguishing.
Our timber-look vinyl wall cladding has beautiful realistic woodgrain textures that comes in two profiles – Weatherboard or Chamferboard.
ABBEY Vinyl Cladding is tested to NCC 2019 Compliance Standards.
If it doesn't comply, DON'T RISK IT.
At ABBEY, our house cladding options offer fast installation and lasting quality for your house or building.
Call us today for your free quote and measure. You won't be disappointed with ABBEY's product or service.