House Cladding Brisbane
Cladding QLD + Northern NSW
There are 3 BIG reasons why people choose Abbey for Aluminium & Vinyl Cladding!
35+ Years of Cladding Experience –

Specialists in Exterior Cladding

30,000+ Jobs Completed –

Vinyl Cladding Brisbane, QLD & Northern NSW

A 50 Year Warranty –

Unbeatable Value & Quality Workmanship
YOU NEVER HAVE TO PAINT AGAIN
Our House Cladding will save you
BIG $$$


Over the Lifetime of Your Property!

Painting your house every 5 years or so is a very wasteful, expensive exercise which can be stopped by the installation of external house cladding.

It will save you thousands of dollars, eliminate painting forever, insulate your home and always look good.

With both Aluminium Cladding and Vinyl Cladding options available in a great selection of colours, our house cladding Brisbane factory offers the largest variety of choice to suit your home or business.

Save money FOREVER with high quality External Cladding for houses and businesses by getting in touch with the cladding professionals at Abbey Thermalboards.

We Use Only The Highest Quality Aluminium
& Vinyl Cladding Thermalboards
We Can Install External Cladding For Your
| | | |
| --- | --- | --- |
| House |  Hotel/Motel |  Small Business |
| Housing Complex |  Commercial Centre | Community Centre |
Speak with us about house cladding today – we offer an obligation-free measure and quote for any property in Brisbane, throughout parts of Queensland and the Northern side of New South Wales.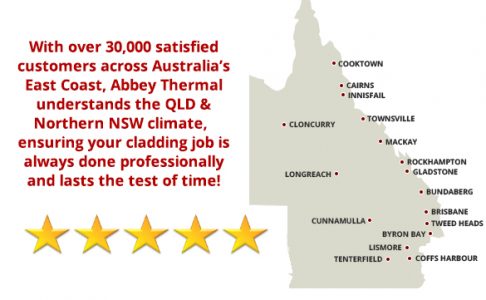 Protect your Property With Exterior Cladding
With more than 10,000 happy customers in the Brisbane area alone, cladding for houses and commercial properties is our specialty.
Our fully insulated, foil-backed thermalboard cladding is ideal for Brisbane residents and property owners, designed specifically to suit the city's unique climate, weather and growing property development market.
Even Better, our cladding Thermalboards come in a range of stylish colours to suit any house or commercial application.
Our House Cladding offers a fantastic range of benefits to customers living and working in Brisbane:

Protection from Extreme Weather Conditions
Abbey cladding adds an extra protective layer to the outside of your building, giving you an additional defence against Brisbane's severe weather.
From flood season to bushfire season, our aluminium and vinyl house cladding can protect your property against it all.
Brisbane sees an average rainfall of approximately 993mm every year, with the summer months alone experiencing almost half of this total.
This heavy rainfall often comes together with thunderstorms and occasional flooding, and in many cases causes severe damage to homes and properties around the city.
As well as an extreme stormy season between January and March, Brisbane is also prone to a hazardous bushfire season from August to December.

Approximately half the bushfires attended to in Queensland every year by the Queensland Fire and Emergency Services (QFES) are in the Brisbane region alone, which includes Logan City, Ipswich, Redlands, Caboolture and Redcliffe.
But Brisbane's extreme weather conditions have got nothing on our heavy-duty, weather-resistant house cladding.
Made from resilient PVC and high quality building materials that meet stringent Australian Building Codes, Abbey cladding is fully water resistant, fire-retardant and rigorously quality tested and assured to withstand the region's varying weather conditions.

Insulation in Brisbane's Fluctuating Climate
Unpredictable temperatures are not uncommon to locals and at Abbey Thermalboards, we make sure our House Cladding Brisbane wide stands up to both extremes of the spectrum.
Prone to high temperatures throughout the year, Brisbane has an average maximum temperature of around 30°C in the summer months and around 17°C over the winter period.
Record high temperatures and heatwaves are also a familiar occurrence, with summer days occasionally reaching temperatures as high as 40°C and over.
The general climate ranges from hot and humid, to mild and dry, and properties need to be constructed from durable, resilient materials that won't be affected by changing temperatures.
Our vinyl and aluminium cladding won't won't be affected greatly in strong, heat, sunlight, moisture and humidity, effectively controlling weather infiltration and vapour.
It's also foil-backed for superior insulation and temperature regulation, keeping your property warm in winter and cool in summer to save you hundreds on the costs of yearly air conditioning.
Our simple house cladding solutions are the most cost-effective and efficient way of protecting, insulating and brightening up the appearance of your Brisbane home, property or business.

Alignment with Building Development Trends
Brisbane is projected to experience one of the fastest annual household growths of all the capital cities, with an expected growth rate of 2.1% per year.
By the year 2031, the Australian Bureau of Statistics (ABS) forecasts an increase of 460,000 households all throughout the city of Brisbane.
With so many new properties expected to pop up over the next decade, as well as an ever-growing population, it's important that building design and construction can keep up with the trends.
At Abbey Thermalboards, our house cladding options offer both fast installation and lasting quality, as well as an array of modern and traditional design choices so that you can establish your property as an invaluable part of the developing Brisbane region.