Exterior & External Cladding
Exterior Wall Cladding Solutions

Exterior wall cladding is a low-cost, affordable method of improving the aesthetics of your house. External cladding will weatherproof a house with very low maintenance costs.
At Abbey Thermalboards, we have many popular types of exterior cladding, all which are perfect for house insulation. The most popular forms of external cladding are Vinyl Cladding and Aluminium Cladding.
Benefits of External Wall Cladding
 Eliminates the need to paint a house
 Low cost and high Return-On-Investment value
 Longevity
 Weatherproof & Insulative
 Aesthetic appeal
 Easy cleaning
Cladding for walls has always been a timeless choice for Australians, it is the best way to keep your house cool in summer and protected from the hot harsh sun!
---
Highest Grade Cladding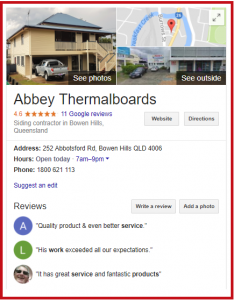 At Abbey Thermalboards we only sell the Highest Grade Cladding.  All of our installations for external cladding come with a 50-year warranty because we are so confident you will be satisfied with our quality product and workmanship.
We have builders licenses in NSW and QLD and have been cladding homes since 1981. To date, we have completed over 30,000 cladding installations and we are still cladding!
Find out why thousands are choosing Abbey Thermalboards, see our
Before and After Cladding Gallery.
Contact us today on 1800 621 113  today and we will give you a 
Free No-Obligation Quote!
---
 Exterior Cladding – Beautiful, Stylish, Built Tough and Made Affordable
External cladding is revolutionary for modern homes and homes built in yesteryear

Once external wall cladding is installed on a home you'll never have to paint the house again. Traditional paint jobs need touch-ups on average every 5 years. With cladding, you will never have to spend money on the touch-ups and you'll never have to spend time organising painters and colours! Check out our full article on Cladding Vs. Painting for more information on costs and what you can save.
Exterior cladding is heavily insulated, to the unaware eye you would never even know. Our clients have seen a reduction in heating and cooling costs after having our insulated cladding installed.
In the summer heat, external cladding insulation works to help you in two ways. One, the cladding will reflect the sun's heat away from your house and two, the cool air inside will have less chance to escape! The same works in the inverse for winter, keeping the cool air out and the warm air in. Enjoy more comfortable living with insulated external cladding.
External Wall Cladding – Vinyl Cladding or Aluminium Cladding

We are proud to provide diverse and tailored cladding options including different styles, textures, finishes and the largest colour range in Australia, to really set your home apart. Our cladding is available in both Vinyl Cladding and Aluminium Cladding – materials carefully chosen for their superior strength, durability and resistance to the elements.
External Cladding – Vinyl

Vinyl is one of the most popular materials for external wall cladding systems because of its appealing look, cost-effectiveness, durability and low maintenance.
Consisting of polyvinyl chloride (PVC) resin and scientifically tested, environmentally-friendly recyclable polymers, vinyl is engineered through an advanced manufacturing process.
This has led it having a strong history of success as a building material in Brisbane and throughout the rest of Australia.
Vinyl wall cladding comes in a larger range of colours, profiles, textures and with more optional accessories than other materials. It is lightweight and easy to install, and the thermalboards are easily maintained as they are not affected by the weather or climate conditions.
You will have no problems with rotting, cracking, denting, flaking or insect damage for the life of your exterior vinyl cladding!
External Cladding – Aluminium

Aluminium is another popular choice for wall cladding because of its high durability and sustainability, while providing your property with a greater level of protection and retaining its fresh appearance for longer.
The benefits of aluminium include its high resistance to corrosion and extreme weather conditions, being among the most waterproof of wall cladding material options. It is also 100% recyclable, making it the perfect choice for the environmentally-friendly consumer.
Better yet, it's a strong and versatile metal that comes in a variety of colours, with the ease and flexibility to further personalise it with trims and accessories. Our aluminium cladding comes in a smooth or woodgrain finish, to suit the look of your property as well as your personal preferences.
Its durable finish will not crack or peel, and it is extremely easy to maintain over its lifetime: simply hosing off the surface every now and then will keep it looking clean, fresh and new.
---